"THE STRENGTH TO BE DIFFERENT - INNOVATION STARTS FROM BUSINESS PROCESSES"
The business organization of Sangiorgio Mobili is divided into departments whose functions are integrated between them, with a top-level team able to manage all project phases.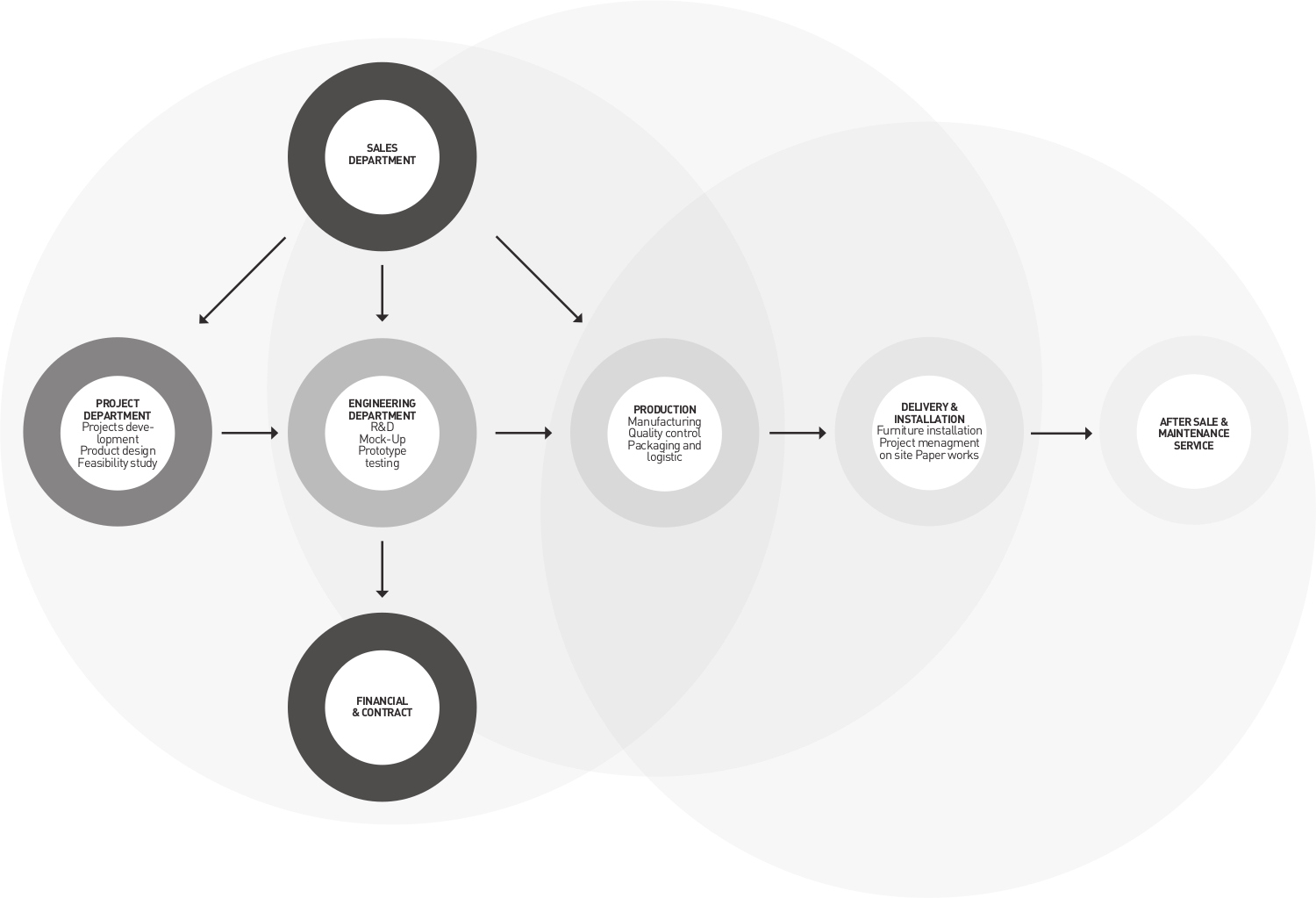 "Be able to do eveything homemade is the best recipe to obtain reliable results of first class."
1

Sales Department

Sangiorgio manages all markets where it operates with direct company personnel and dedicated professionals, coordinated by the headoffice. Each of them is a corporate person who deeply knows the markets where he works, transmitting the company mission to customers and partners. Sangiorgio ensures a constant presence in any active markets, thanks to commercial offices and exclusive showrooms.
2

Project department

the flagship of Sangiorgio. The design office within the company that manages all the projects from the layout, furniture design, materials selection, till specifications. All this combined with a procurement office and supplier management in order to offer clients a complete tailor-made service.
3

Engineering department

a team of Sangiorgio technicians studies the tailored product development, manufacturing weekly new prototypes and taking care of the mock-up rooms. The company has available an area of over 2,000 square meters dedicated to mock-up staging.
4

Production department

the main site in Biassono manufactures all the products for the projects. The most modern machineries, rigorously organized processes, together with a highly specialized craftsmen let Sangiorgio assemble its own products in a perfect mix of industrial design and tailor-made furniture. A specialized team manages each supplier, from the shopdrawings to the production of the components in order to ensure a standardized high-end engineering.
5

Logistics department and installation service

the shipping and logistics phase is followed with great attention and method. Each piece of furniture must get to destination in perfect conditions as tested in the company: we use not only double-layer packaging and custom made pallets, but each piece is labeled with all the information needed for the delivery and installation phases. Sangiorgio uses then special teams for the installation works everywhere worldwide, as well as site engineers and logistics staff.
6

After sales department

even if Sangiorgio products are "custom made", we guarantee spare parts, availability of components and accessories for the entire life cycle of the product. Also the maintenance is carried out by skilled staff directly from the company.